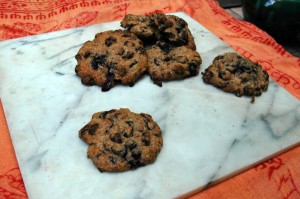 Description:
Rich, chewy, chocolatey, vegan, whole-grain cookies with the sweetness of honey & agave. Almost as good as really great sex, and definitely better than some sex I've had. Makes about 20 4″ diameter cookies.
Ingredients:
1 cup whole wheat flour
1/2 cup whole spelt flour
1/2 cup flaxmeal
2 tsps baking powder
1/2 tsp.salt
1/2 tsp cinnamon
1/2 tsp nutmeg
2 cups vegan chocolate chips
1 pint fresh blueberries
1/2 cup agave
1/2 cup honey or maple syrup
1/3 cup olive oil
1/3 cup sesame oil
1 teaspoon vanilla
1/4 cup water
Directions:
Preheat oven to 350.
In a large bowl mix flour, baking powder, salt, cinnamon (if you choose). Add chips and blueberries. Make a well in the center and set aside.
In a blender, mix the oil, honey, agave, vanilla & water.
Pour oil-honey mixture into the well of the large bowl & mix by hand until well blended.
Spoon onto ungreased cookie sheets & place in oven.
Bake for 5 minutes and then flip and rotate the sheets.(top to bottom,and 180 degree rotation) Bake another 4 minutes and check them. They should be brown around the edges but the top almost the same light color as the dough – take them out when they seem slightly underdone and move them to wire cooling racks.