Description:
SUPER Quick & healthy dessert – great for the munchies & a short attention-span. Makes about 3 cups (3 servings, not including garnish)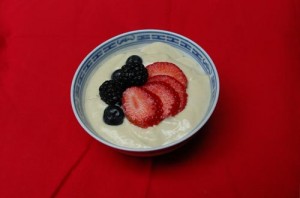 Ingredients:

Pudding:
8 oz. tofu
8 oz. coconut milk
1 mango, peeled & sliced
2 tbsp agave
1 ripe banana
Garnish:
2 cups: blackberries, raspberries, strawberries, blueberries, or all of the above!
Directions:
Mix tofu, coconut milk, mango, banana & agave in the blender until smooth. Pour over berries, or use them as a garnish. Serve.