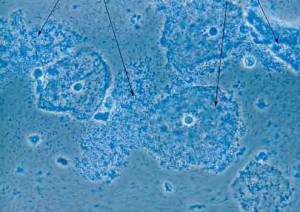 I once got this, and freaked out because I thought it was an STD. Apparently, it's not – it's more like an allergic reaction to something or someone with whom one was recently intimate, and it just means you need to balance out the over-reaction of your flora and fauna. All the same, it's pretty horrifying when your honeypot smells wrong and there's an unnatural discharge, so before you storm into that restaurant to give that cute waiter you shagged last week a sock in the jaw, chill out and read below a simple thing that I tried out based on some internet research. I did go to a gynecologist about it, but like most doctors, their default answer was antibiotics, which I am not a fan of. Whichever way you go, diagnosis is the first critical step in addressing the problem (a la Scientific Method, as well as Socrates) so one should go get diagnosed by a professional and tested for other STD's before you go playing around down there.
What is it?
From
Wikipedia
:
The most common symptom of BV is an abnormal homogeneous off-white vaginal discharge (especially after sex) with an unpleasant smell.[4] This malodorous discharge coats the walls of the vagina, and is usually without irritation, pain or erythema.
Click to

view

photo of BV infection
(While I think it's important to publish actual, phenomenological photos of the experience, I don't want to gross anyone out with graphic imagery without warning)
More info:
Bacterial Vaginosis At A Glance
from MedicineNet
My Solution
What I found ultimately worked was based primarily on the following
article
:
E. G. Papanikolaou1, G. Tsanadis1, N. Dalkalitsis1 and D. Lolis1 (1) Dept. of Obstetrics and Gynecology, Medical School, University of Ioannina, GR-45110, Ioannina, Greece. drvagpapanikolaou@yahoo.gr, GR
Abstract
Bacterial vaginosis (BV) is a polymicrobial infection of the vagina and should not be considered an exclusively sexually transmitted disease. We describe the case of a 17-year-old female virgin adolescent with recurrent malodorous vaginal discharge for 6 months. Before referral to us she had been treated unsuccessfully with conservative treatment options. Our investigation revealed Gardnerella vaginalis as the responsible factor for the vaginal infection. Because metronidazole treatment had failed as monotherapy, a new method was applied. Repeated vaginal washings with 3% H2O2, 15% NaCl and 10% providone iodine were initiated. At the end of each washing, vaginal walls were thoroughly cleaned up with a small gauze. After 10 days of treatment the odor and the vaginal discharge had ceased and 12 months later no relapse had occurred. It seems to be reasonable to use this kind of treatment in recurrent BV. Received: January 3, 2001 · Revision accepted: April 23, 2002 E. G. Papanikolaou (corresponding author)
So I made a douche of the above-mentioned recipe – 3% H
2
O
2
, 15% NaCl and 10% providone iodine, used in the evening, after which i would insert 1 300mg capsule  of acidophilus and another of 1/3 tea tree oil, 2/3 vitamin E oil as vaginal suppositories. In addition to the douche (or even instead of), it's helpful to dowse some gauze in the peroxide, wrap it around your finger, and get in there and thoroughly swab around – you may be surprised at the complexity of nooks and crannies of your vagina, in which bacteria can hide.
Later on, I went back to the gynecologist to check things out and he said everything look good, I was a little dry, but expressed concern about my remedy – his opinion was that hydrogen peroxide was very extreme. He said this was probably the reason I seemed dry. Next time I go in for my annual pap I plan to ask about it (I moved since then and see a great local RPA for ob/gyn related stuff), and will update this with her opinion on the matter – so keep that in mind if you want to try this. Despite this, I did find that it worked, and I didn't have to take antibiotics, and I have not seen a relapse since (I'm writing this about 2 years after the fact). I also stopped seeing the guy I was seeing when it cropped up – more for other reasons, but I believe Nature sometimes has a quirky way of signaling us when we don't see the obvious.