…they do contain eggs however; Eggs are an exception to my general non-dairy rule, due to the many positive health benefits I've read about them. If you're vegan, I've tried the same recipe without – results in a more bread-y/cake-y consistency.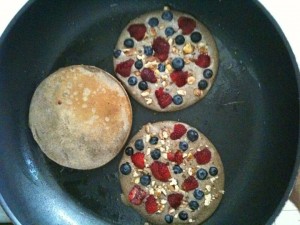 Ingredients
Batter:
1.5 cups buckwheat, spelt, or whole wheat flour (or any combination)
1.5 cups soy milk
1 egg
1 ripe banana
2 tbsp honey or agave
1 tsp salt
3 tbsp soy spread
2 tsp baking powder
Toppings:
1 pint blueberries
1 pint raspberries
1 cup chopped walnuts, toasted
Additional:
+/- 1/4 cup olive oil (for frying)
maple syrup (of course!)
Directions
-Mix all batter ingredients together in the blender (I find that putting the flour in first seems to keep it from getting stuck to the sides).
-toast the walnuts in oven or toaster oven
-burner should be set low to medium
-grease skillet liberally with olive oil
-pour batter into pan, immediately add toppings
-flip when edges are dry and middle starts to bubble a bit
-serve with maple syrup