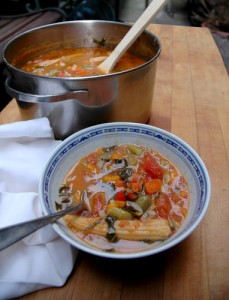 Description:
A really yummy cornucopia of beans vegetables in a hearty red base. Serves… A LOT. I'll venture to guess about 20 servings in one batch – I often keep the pot in my fridge and snack on it all week.

Ingredients:
1 lb peeled canned tomatoes (buy them chopped or whole – i like to buy whole and then chop)
1/2 cup lima beans
1/2 cup red lentils
1/2 cup green split peas
1/2 cup chickpeas
1/2 green zucchini
1 can baby corn
2 1/2 large carrots
1/4 butternut squash, diced
1 potato, diced
3 stalks celery
1 cup chopped green beans
2-3 leaves of kale, chopped
1/4 cup finely chopped red onion or 1 finely chopped shallot

1/2 cup virgin olive oil
1/2 cup raw sesame oil
2-3 tbsp salt to taste
2 tbsp rosemary leaves
1 tbsp paprika
1 tbsp turmeric
1 tbsp black pepper
1 tbsp maple syrup
2 tbsp coconut milk
1 clove finely chopped garlic

Directions:
soak the beans overnight in 2 cups water each. Bring 8 cups fresh water to boil in a large pot. Once boiling, add ingredients in the following order, with about 2 minutes between due to the differences in density & cooking times:
-lima beans
-chickpeas
-green peas & lentils
-carrots
-butternut squash & potato
-green beans
-celery & zucchini
-kale
-baby corn
-onion

Once these have all been added and the pot is simmering, add the following together:
-peeled chopped tomatoes
-garlic
-olive oil
-sesame oil
-maple syrup
-coconut milk
-rosemary
-paprika
-turmeric
-salt & pepper

Let simmer for another 5-10 minutes, during which time you may wish to continually taste and adjust the seasoning. Let cool a couple of minutes and it's ready to serve.